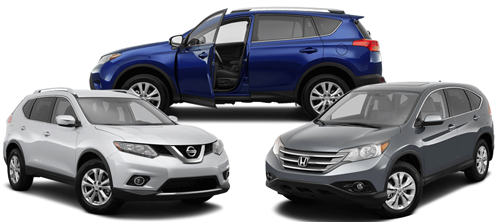 Used SUVs for Sale in Andalusia, AL
SUVs are unquestionably the hottest form of family transportation. They come in all shapes and sizes, some geared to the off-road adventurer, some for the road tripper, some for the luxury-loving daily traveler. They each have their own standout attributes – value, versatility, capability, equipment – making it something of a challenge to find one that meets all your needs and comes at a price just right for your budget.
Or you could cut to the chase and shop the selection of used SUVs at Walt Massey Nissan. Our Andalusia dealership is stocked with high-quality models from some of the automotive industry's most trusted brands – and the prices can't be beat.
Get a head start on your shopping adventure by browsing our online inventory. You can search by make and model, year, mileage, price range, and more to receive an instant list of all the used SUVs on our lot that match your specifications. It's a great shortcut to help streamline your search for the perfect SUV. And when you arrive, you'll be ready to get busy with the fun part – test driving your top picks and finding out how much you can save!
Great Prices on Used SUVs
It's especially important when you're shopping for a used vehicle that you get a great blend of value and quality. At Walt Massey Nissan, that's a given. Every used SUV we list for sale has been thoroughly inspected and given the stamp of approval from our team of professional technicians – letting you shop with confidence.
We're also proud to offer competitive pricing on everything we have in stock. Add to that the amazing deals on featured models in our pre-owned inventory as well as flexible and attractive financing options, and you'll quickly see why buying a used SUV from Walt Massey Nissan is such a smart choice for any budget.
Find Your Used SUV in Andalusia, AL
With our diverse selection and irresistible prices, Walt Massey Nissan is sure to have more than a few great choices for you. Stop by and check out your favorites, get some firsthand experience behind the wheel, and experience our top-notch customer service.
Our friendly team is on hand to assist you every step of the way throughout the process, from exploring your options to securing a great auto loan and even providing full-service auto care after the sale. Don't wait another day to find the SUV of your dreams. It's in stock now and waiting for you at our Andalusia dealership.