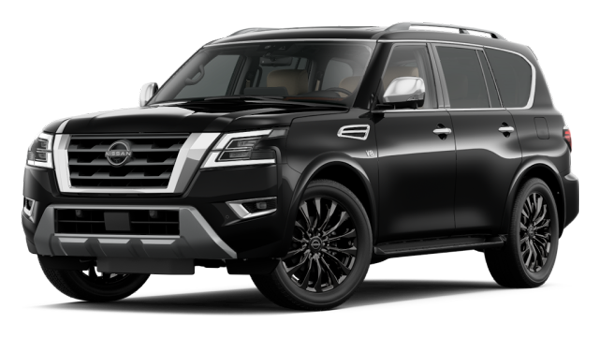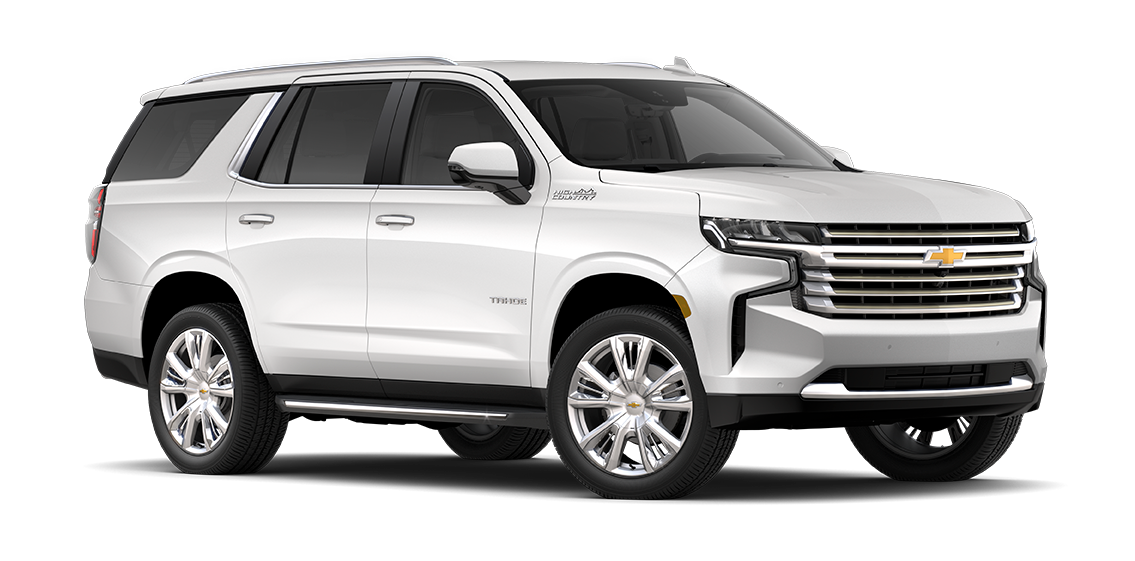 2021 Armada vs. 2021 Tahoe in Andalusia, AL
SUVs come in all shapes and sizes. For full-size models, you should give a hard, long look at the 2021 Nissan Armada. This SUV has a lot to offer when it comes to performance, dependability, comfort, and overall satisfaction. Many shoppers who consider this model compare it to the 2021 Chevrolet Tahoe. Both have helpful features and provide many elements of an enjoyable ride and a good experience. Our team at Walt Massey Nissan in Andalusia, AL, is ready to show everything that the Armada is capable of.
Interior Comparison
When reviewing the Armada vs. Tahoe, you might want to first start inside, where these SUVs have some eye-opening features. The 2021 Nissan Armada has some wonderful elements, including adaptive cruise control, power steering, a tilt and telescopic steering wheel, and audio and cruise control right on the steering wheel. These features make your job in the driver's seat easier. Other features such as dual-zone front climate control, interior air filtration, an overhead console with storage, and front, rear, and third-row cupholders are helpful to passengers.
The 2021 Chevy Tahoe is certainly no slouch and beats out many competitors. But it doesn't quite match what the Armada offers. The Tahoe won't give you adaptive cruise control and doesn't have the turn signal in the mirror, which the Armada does. It also doesn't have interior air filtration.
A full-size SUV needs to be roomy, and both of these models provide room for everyone to stretch out and not feel constricted. In the front of the 2021 Nissan Armada, you'll have 40.9 inches of headroom, 59.2 inches of hip room, 41.9 inches of legroom, and 63.8 inches of shoulder room. The rear seats offer 40 inches of headroom, 58.4 inches of hip room, 41 inches of legroom, and 63.4 inches of shoulder room. Compare this with the 2021 Chevy Tahoe, which has 42.3 inches of headroom, 61.5 inches of hip room, 44.5 inches of legroom, and 66 inches of shoulder room in the front. The rear seats offer less headroom than the Armada, however, with 38.9 inches.
Nissan Armada Interior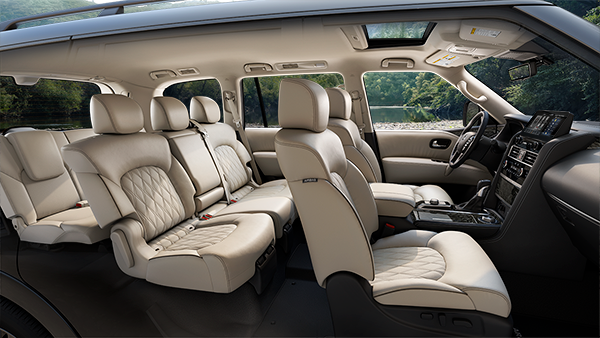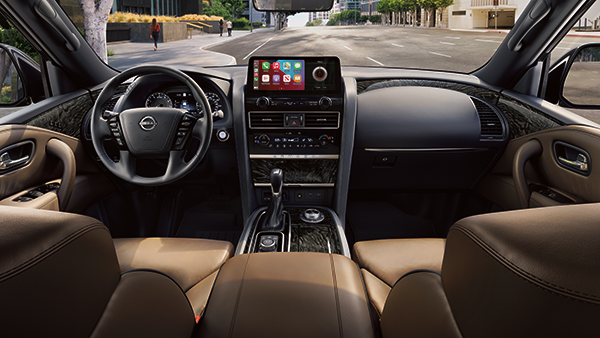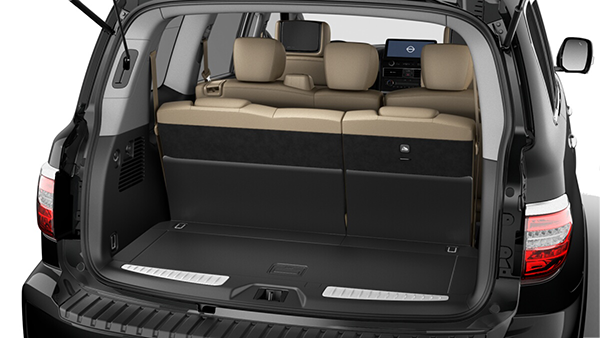 Chevrolet Tahoe Interior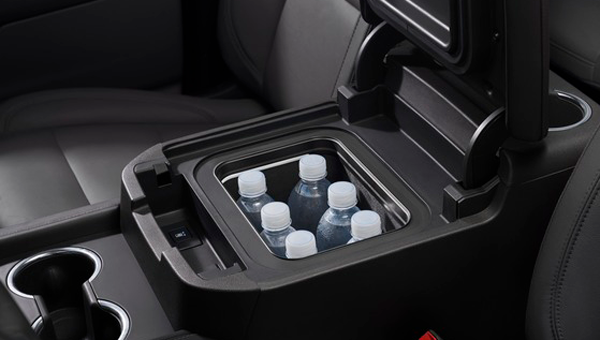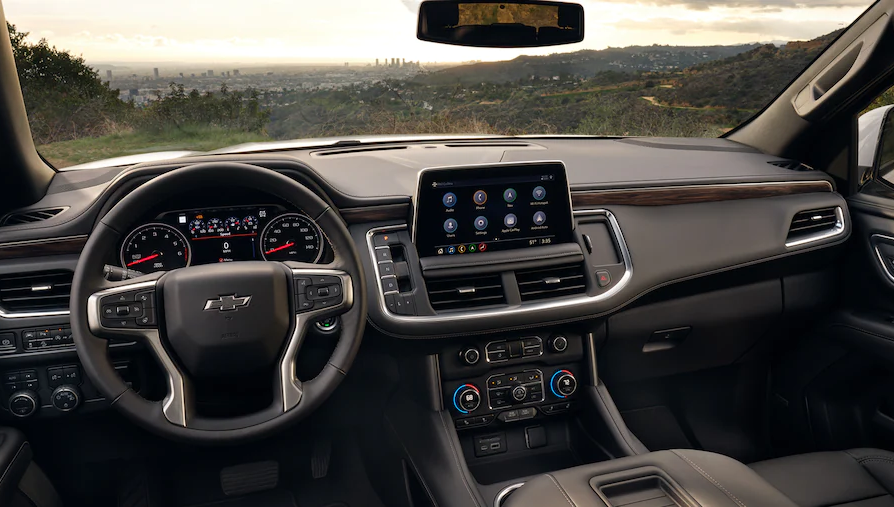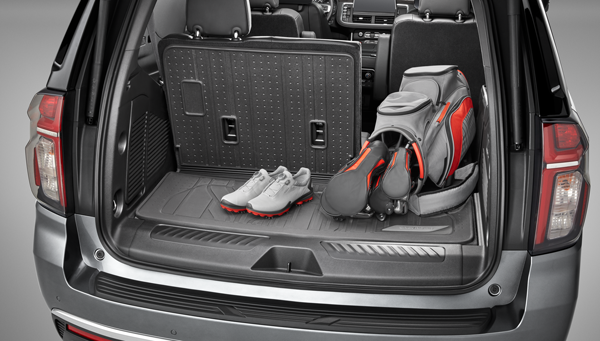 Performance Comparison
When you want the best SUV, you need something with a powerful engine that can keep the vehicle going for miles ahead. You need to be able to traverse the most challenging roads and demanding terrain. You may even want to tow another vehicle behind. You can do all of this and more in Andalusia, AL, with the 2021 Nissan Armada. It has a 5.6-liter, 32-valve V8 engine capable of putting out 400 horsepower at 5,800 rpm. It also generates 413 pound-feet of torque at 4,000 rpm. This beats the 2021 Chevrolet Tahoe, which has a 5.3-liter, 16-valve V8 engine. The Tahoe's engine generates 355 horsepower and 383 pound-feet of torque. These two SUVs have similar fuel economy numbers.
Safety Features Comparison
Since you will likely be traveling a lot of places with your family or other passengers in your full-size SUV, you need to make safety a priority. Doing your part behind the wheel is essential, but it's also nice to have a set of features to keep you safe and protected. The 2021 Nissan Armada will do this. It has blind-spot and lane departure warning systems, child seat anchors, dual front side-mounted air bags, front, rear, and third-row head air bags, an engine immobilizer, dusk-sensing headlamps, and a rear center three-point belt. It also boasts stability control, traction control, emergency braking assist, and tire pressure monitoring. Each of these helps to prevent accidents.
The 2021 Chevy Tahoe stacks up well in the safety department. The Armada does have a slight advantage in that it does have turn signals in the mirrors, which the Tahoe lacks.
Find the 2021 Armada in Andalusia, AL
The Nissan vs. Chevrolet question has always been on the minds of serious shoppers when it comes to picking the right SUV. Walt Massey Nissan and our helpful associates can show you all of the Armada's amazing features. You will also see that its more powerful engine and additional interior comforts make it the better choice. Stop by our showroom in Andalusia, AL, today and take the 2021 Nissan Armada for a spin.